0-Series Shinkansen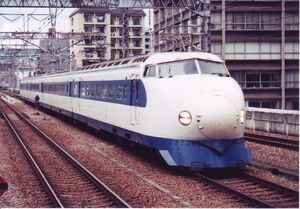 A Shinkansen 0-Series, 4-car, Q-Type trainset.
Photo: D A J Fossett.
Details

Years built

1963–1986

Builder

Hitachi, Kawasaki Sharyo, Kinki Sharyo, Kisha, Nippon Sharyo and Tokyu Car Corporation.

Number Produced

Unknown

Years in Operation

Unknown

Fleet Numbers

Unknown

Unknown

Type of Electric Train

EMU

Number Operational

none

Number Preserved

Unknown

Number Scrapped

Unknown

Power Source

pantograph

Dimensions
(l x w x h)

990 in (25,150 mm) (end car only) x 133.2 in (3,383 mm) x 177 in (4,490 mm)

Gauge

4 ft 8½ in (1,435 mm)
V - E - T - D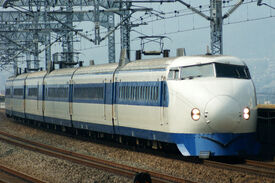 The 0-Series is a high-speed EMU, that was the first Shinkansen class to be built in Japan for the Japanese National Railways, which was built from 1963 for the Tokaido line which opened in 1964.
The 0-Series (retrospectively named 0-Series) entered service in October 1964. These trainsets were the first Japanese trains to be built as standard gauge (4ft 8½ in [1,435mm]), however, Japan's previously built networks were built as narrow gauge (3ft 6in [1,067mm]) lines. The first trainsets were built as 12-car sets, but later there were 16-car sets, 6-car sets and 4-car sets; the last two of which were used for lighter duties. The 0-Series was built from 1964 to 1986. This means a staggering 3,216 trainsets were built, but only 27 have been preserved. The last of the line were 6-car sets working on stopping duties on the Hakata-Minami line. These were finally retired on the 30th of November 2008. There were commemorative Hikari runs in December of that year, and the last 0-Series pulled into Hakata Station at 6:01pm on the 14th of December 2008, bringing to a close 44 years of service from 0-Series trainsets.
Identification
Edit
The original 0-Series trainsets can be recognized by their white units with blue stripe on either side at window height, and another blue stripe on the very bottom edge of the bodies above the wheels. These units can also be identified by the circular lights, which are uncommon on shinkansen services. Also, later sets used on the Kodama service used the "fresh green" paint scheme shared with the later 100-Series sets used on the same services.
Set Types
Edit
12-car H/K/N/R/S sets
12-car H/K/N/R/S/T Kodama sets
16-car H/K/N/R/S Hikari sets
16-car K Kodama sets
16-car H Hikari restaurant car sets
16-car NH Hikari sets
16-car YK sets
12-car SK sets
4-car Q sets
6-car R sets
Specifications
Edit
The bodies of the sets were constructed of steel. The sets were 133.2 in (3,383 mm) wide and 177 in (4,490 mm) high. The end cars were 990 in (25,150 mm) in length, and the intermediate cars were slightly shorter at 980 in (25,000 mm). A single set could hold between 368 and 1,340 people depending on the number of cars. The pantograph carried 25 kV, AC power at 60 Hz. Top speed was 140 mph (220 km/h).
References
Edit
Book: The Complete Book of Locomotives by Colin Garratt published by Hermes House. ISBN: 978-1-84477-022-9.
Ad blocker interference detected!
Wikia is a free-to-use site that makes money from advertising. We have a modified experience for viewers using ad blockers

Wikia is not accessible if you've made further modifications. Remove the custom ad blocker rule(s) and the page will load as expected.