400 Series Shinkansen
A 400 Series Shinkansen in its original livery.
Details

Years built

1992–1995

Builder(s)

Hitachi, Kawasaki Heavy Industries, Tokyu Car Corporation

Number Produced

12 sets (84 cars)

Formations

7 cars per set

Years in Operation

1 July 1992 – 18 April 2010

Fleet Numbers

L1–L12

Unknown

Type of Electric Train

EMU

Dimensions
(l × w × h)

898.6 in (22,825 mm) x 116 in (2,947 mm)

Number Operational

None

Number Preserved

1 car

Number Scrapped

83 cars

Power Source

pantograph

Electric system(s)

20/25 kV AC (50 Hz)

Gauge

4 ft 8½ in (1,435 mm)
V - E - T - D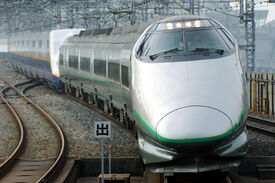 The 400 Series Shinkansen is a high-speed EMU. They were built for the mini-Shinkansen line; the Yamagata branch line. Built between 1992 and 1995 they were designed to be shorter and narrower for the upgraded line operated by JR East. The whole fleet of 400 Series trainsets was refurbished between 1999 and 2001. They were withdrawn starting 2008 and ending with L3 on the 18th of April 2010.
These trainsets had to be built much narrower than other Shinkansen trainsets. The Yamagata line is an upgraded line, from narrow gauge to standard gauge. Though the gauge is the same as the main lines, the infrastructure wasn't built for such wide vehicles such as the 300 Series. So narrow was the 400 Series that when the train stopped at main Shinkansen lines, steps had to extend from beneath the doors so passengers could get to the platform.
Formation
Edit
There was a pre-production set (S4) made in October 1990. It had a 6-car layout; all the cars were powered. The set differed from production sets by having seat-back TV screens. Testing began on the 14th of November 1990. This series may have been smaller, but it wasn't slower... it was faster. On the 26th of March 1991 S4 set a new Japanese speed record of 208 mph (336 km/h), on the Joetsu line in the Yuzawa Tunnel. And to top that, S4 did 214 mph (345 km/h) on the 19th of September 1991, over the same piece of track. S4 was later modified to production standards becoming L1 on the 29th of June 1992.
In late-1995 a 7th car was added to the sets. This unpowered car took position 5 in the sets.
Specifications
Edit
Construction was of steel, and a single set could cater for 399 (379 standard + 20 Green class) passengers. The end cars are 22.8 meters long and the intermediate cars are 20.5 meters long. Top speed is 150 mph (240 km/h) for the Tohoku line, and 81 mph (130 km/h) for the Yamagata line. It took 20/25 kV, AC at 50 Hz.
Preservation
Edit
However most of the first eleven sets where withdrawn and all scrapped, but one car (Green Car 411-3) of the last set to be withdrawn, L3, was stored at Fukushima, but was later moved to the Saitama Railway Museum in December 2017, where it is to be preserved; the car has since been painted back into its original livery.
References
Edit