500 Series Shinkansen
500 Series Shinkansen set V6 on a Hikari service passing Shin-Kurashiki Station on the San'yō Shinkansen in May 2012.
Details

Year(s) built

1995 – 1998

Builder(s)

Hitachi, Kawasaki Heavy Industries, Kinki Sharyo, Nippon Sharyo

Number Produced

9 sets (144 cars)

Formations

8 or 16 cars per set

Years in Operation

22 March 1997 – Present

Fleet Numbers

W1, V2 – V9

Unknown

Type of Electric Train

EMU

Dimensions
(l × w × h)

1062.99 in (27,000 mm) (end car) x 133.07 in (3,380 mm) x 145.28 in (3,690 mm)

Number Operational

8 sets (64 cars)

Number Preserved

1 car

Number Scrapped

79 cars

Power Source

Pantograph

Electric system(s)

25 kV AC (60 Hz)

Gauge

4 ft 8½ in (1,435 mm)
V - E - T - D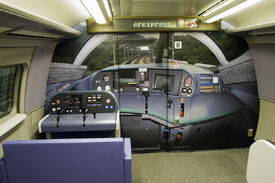 The 500 Series Shinkansen are high-speed EMUs. They were built between 1995 and 1998, for JR West. They entered service in March 1997. This was the first Shinkansen to reach 186 mph (300 km/h) on passenger services.
These trainsets were radically different to the first generation of Shinkansen. Their shape departed the "bullet" shape of the first generation and replaced it with "shark-like" head/tail cars. They were designed to travel at a speed of 199 mph (320 km/h), but their services were limited to 186 mph (300 km/h). They were retired from the super-fast Nozomi service in 2010, and therefore limited to 177 mph (285 km/h).
W sets (1997-2010)
Edit
The first of the 16-car sets was delivered for testing in 1995, and was pulling passenger services by March 1997. The eight other sets were delivered by 1998. They pulled the Nozomi services normally, but were also used for the Hikari Rail Star service during holiday season. The last 500-Series Nozomi service was on the 28th of February 2010. Cars 5 and 13 have the pantographs.
V sets (2008-present)
Edit
These 8-car sets were made up from eight of the original 16-car W sets. They replaced the 0-Series trainsets running the Kodama service on the Sanyo line. The first was unveiled on the 28th of March 2008, and the sets entered service on the 1st of December that year. The maximum speed of the service was lowered to 177 mph (285 km/h). Cars 2 and 7 have the pantographs.
Specifications
Edit
Construction is of aluminium alloy. The end cars are 27 meters long, and the intermediate cars are 25 meters long. They run on 25 kV, AC 60 Hz power. Output is 18,240 kW (24,460 hp) (set W1), and 17,600 kW (23,600 hp) for the rest. Traction motors are 3-level GTO thyristor variable frequency drives manufactured by Toshiba which produce 64 × 382 hp (285 kW) (set W1), and 64 × 369 hp (275 kW) for the rest; the technology used in the 500 Series' traction motors is based on the technology used in the WIN350 experimental train.
References
Edit