800 Series Shinkansen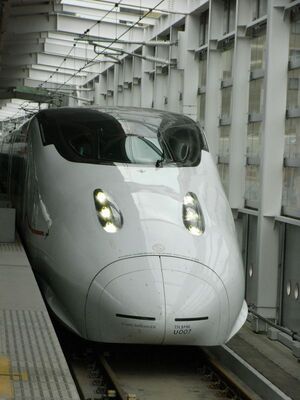 800-Series Shinkansen set U007 at Kagoshima-Chūō Station.
Details

Years built

2003, 2005, 2009 – 2010

Builder(s)

Hitachi

Number Produced

54 cars (9 sets)

Formations

6 cars per set

Years in Operation

12 March 2004 – Present

Fleet Numbers

U001 – U009

Unknown

Type of Electric Train

EMU

Dimensions
(l × w × h)

984 in (25,000 mm) (end cars) × 133 in (3,380 mm) × 144 in (3,650 mm)

Number Operational

54 cars (9 sets)

Number Preserved

0

Number Scrapped

0

Power Source

Pantograph

Electric system(s)

25 kV AC (60 Hz)

Gauge

4 ft 8½ in (1,435 mm)
V - E - T - D
The 800 Series Shinkansen is a high-speed EMU in Japan. Built between 2003 and 2010 for JR Kyushu on the Kyushu line. It entered service in 2004.
Rather departing from either the "bullet-shaped" nose of early Shinkansen sets like the 0 Series or latter "sharklike-shaped" nose of the 500 Series, the 800 Series has a much rounder, yet aerodynamic, nose. All 800 Series sets are six cars long, and have a 160 mph (260 km/h) service speed.
800 Series (2003-present)
Edit
These are the first batch of the series. Numbered U001 to U006; U001 was delivered by Hitachi on the 30th of August 2003, through to U006 which was delivered on the 18th of July 2005. Cars 2 and 5 are the pantograph cars.
800-1000/2000 Series (2009-present )
Edit
These are three new sets for the JR Kyushu line. Numbered U007 to U009; the former was delivered on the 8th of August 2009 and U008 was delivered in April 2010. U009 was delivered, JR Kyushu saying that it would be delivered by the autumn of 2010 in a press release of December 2008. The only changes over the first batch are: livery colors/designs, and new seat covers for passengers. Cars 2 and 5 are the pantograph cars. All three sets are dual-purpose; not only do they ferry passengers, but all three sets have dedicated track and overhead line inspection equipment inside them.
Specifications
Edit
Built: 2003-2010
Builder: Hitachi
Number built: 9 sets
Formation: 6-car sets
Car body construction: Aluminum
Car length: 82 ft (25,000 mm) (middle cars), 89 ft 9 in (27,350 mm) (head/tail cars)
Width: 11 ft 1 in (3,380 mm)
Height: 12 ft (3,650 mm)
Maximum speed: 160 mph (260 km/h) (service max), 177 mph (285 km/h) (designed)
Electrical system: 25 kV AC, 60 Hz overhead wires
Collection method: Pantograph
Gauge: 4 ft 8½ in (1,435 mm)
References
Edit