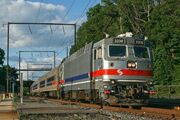 The ABB ALP-44 is an electric locomotive which was built by Asea Brown Boveri (Sweden) between 1989 and 1997 for the New Jersey Transit and SEPTA railway lines. As of 2016, only SEPTA still operates their single ALP-44 in revenue service, making it the only operating ALP-44 in the world. New Jersey Transit has retired its fleet, with the last ALP-44s retired in 2012.
The ALP-44 is a variant of the AEM-7 and closely resemble them.
Ad blocker interference detected!
Wikia is a free-to-use site that makes money from advertising. We have a modified experience for viewers using ad blockers

Wikia is not accessible if you've made further modifications. Remove the custom ad blocker rule(s) and the page will load as expected.