The ALCO; American Locomotive Company; C-855A and C-855B (Century Series), were twin-engined, eight-axle 5,500hp diesel locomotive (with two "A" units and a single "B" unit; making only three) built in 1964 and scrapped in 1972.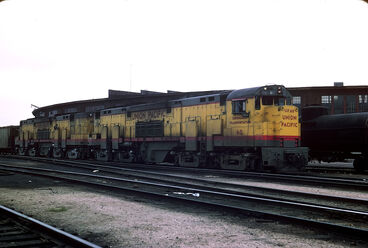 They were the largest diesel locomotives built by ALCO, and (at the time) were some of the most powerful diesel locomotives ever built (though, the position was eventually taken by EMD with their DDA40X).
In the early 1960s Union Pacific solicited proposals from EMD, GE, and Alco for a locomotive or locomotives capable of producing 15,000 horsepower.  EMD's entry was the GP35 / DD35 / DD35 / GP35 set,  GE proposed the U50, and Alco proposed the three-unit C-855 set.
They spent their lives working in the general freight pool at North Platte, Nebraska, yet the set was eventually retired and scrapped by February 1972, after less than eight years in service.
Specifications
Edit
They were powered by two V16 251-C prime movers (16-cylinder diesel engines of 2,750hp) and were rated at 5,500hp when combined. The engines were mounted with the radiator sections in the center and the large generators used to power the engines were placed at the ends of each unit, and were rated for 160,000 lbs of tractive effort at 10 mph (16 km/h), and 60,000 lbs at 30 mph (48.2 km/h). Maximum speed was 70 mph (112.6 km/h). They rode on four two axle trucks in pairs joined by span bolsters, giving a B+B-B+B wheel arrangement. The units weighed 551,400 lbs, and carried 6,000 U.S. gallons (23,000 liters) of fuel. Overall length was 86 feet (26.2 meters). Other responses to Union Pacific's request were the EMD DD35 and GE U50.
References
Edit
http://www.calclassic.com/alco/photos/centphto.htm
Trains Magazine, November 1963 issue