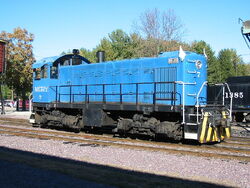 The ALCO; American Locomotive Company; S1 is a type of four-axle 600hp diesel locomotive built during the 1950s. Many were built, as well as there being different versions of the actual locomotive. Many are also preserved, and operate on several shortline railroads.
The ALCO S1 was built during the 1950s as a typical "road switcher" (or shunter) for use on various railroads for switching, shunting, or sorting out rollingstock in yards, industries, junctions and/or stations.
They were originally meant to compete with GE's "Boxcab" series of switching locomotives, and EMC/EMD's NW/SW series of switching locomotives. Yet, the S1 succeeded in being larger and more powerful for railroads to use for heavy-duty freight service; though EMD however, developed the GP7 which surpassed the S1; dominating both the S1, subsequent models, and ALCO's "RS" series switchers (a line which was actually greenlit as a result of the S1's ever-growing success).
The S1 was unfortunately outsold by the ever-growing success of EMD's GP7, but most railroads still primarily used the ALCO S1 for switching duties until the 1960s when GE and EMD introduced the U25B and GP30 respectively; beginning the second-generation for freight (and passenger) diesel locomotives evolving from being a basic "road switcher".
Numerous shortline railroads throughout North America and the United States have S1 units preserved, and are used for hauling freight and passenger excursions (besides some currently residing on static display).
Although some aren't considered or classified as such:
S2 (900hp version)
S3 (660hp version)
S4 (1,000hp version)
S5 (1,200hp version)
S6 (1,500hp version)
Whitewater Valley Railroad (WVRR) ALCO S1 #9339 (formally NYC 9339) was one of the very first ALCO S1 units ever built (originally for the New York Central), and is preserved at the Whitewater Valley Railroad shortline in Metamora, Indiana.