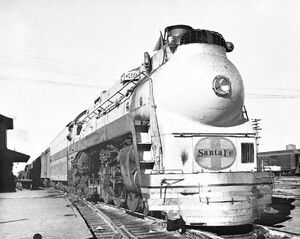 ATSF 3460 class were 4-6-4 steam locomotives known as a "Super Hudson" and one of the "Big 3" in Santa Fe lore. Production of these passenger locomotives started in 1937 by the Baldwin Locomotive Works; six were built in total.  Number 3460 was painted in a distinctive light blue and silver and usually ran between La Junta, Colorado and Chicago, Illinois.  It was nicknamed the "Blue Goose".  The headlight in the middle is reminiscent of some of New York Central's Henry Dreyfuss designed streamlined locomotives.  Five were scrapped (including the beautiful Blue Goose) leaving # 3463 the lone survivor of the class.  # 3463 is currently on majestic display on the grounds of the Kansas Expocentre in Topeka, KS. where it has been displayed since 1956.
Ad blocker interference detected!
Wikia is a free-to-use site that makes money from advertising. We have a modified experience for viewers using ad blockers

Wikia is not accessible if you've made further modifications. Remove the custom ad blocker rule(s) and the page will load as expected.