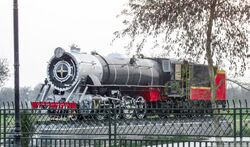 Santa Fe (ATSF) No. 132
is a 2-8-0 steam locomotive it was built by the Baldwin locomotive works in 1880 for the Atchison, Topeka & Santa Fe Railway.
This locomotive was designed to worked as a switch engine and haul freight trains for the Atchison, Topeka & Santa Fe Railway to tackle steep grades on Raton Pass on the Colorado-New Mexico border.
The locomotive began in service in October of 1880 and stayed on Raton Pass for the next twenty years, renumbered #912 in 1898 and #2414 in 1900.
It worked there until 1939 when, after nearly sixty years of service, it was to be scrapped. However, identified as AT&SF's oldest surviving locomotive, it was saved and refurbished as a 2-8-0 in 1940-1941 for static display.
Renumbered #132, the locomotive became a corporate symbol for the AT&SF, and was spared the WWII scrap drives that decimated many steam locomotives. In 1950, it was overhauled and returned to operation as #1 and named "Cyrus K. Holliday" in honour of the founder of the AT&SF.
Today the locomotive is on static display at The Kansas Museum of History in Topeka, Kansas.
No. 132, is the oldest surviving steam locomotive from the AT&SF.
Occasionally, the locomotive appeared in films, as well as in an episode of the television series "Gunsmoke".
When the locomotive went back in operation in 1950 It received a new tender and two 1880's coaches and steamed at local celebrations, fairs and other events.
When the two coaches that the locomotive was coupled to from 1950 they were on static display also These have been restored to their appearance as a 1920's drover's car and a 1910's division superintendent's car.
In 1977, the AT&SF made a commitment to donate #132 to the Kansas Historical Society for display at the Kansas Museum of History, then in the planning stages.
This was the largest and heaviest locomotive constructed up to that time, and its success convinced the AT&SF to order ten more 2-8-0s for service over the pass.
In February 1983, #132 was finally hauled by flatbed to the museum, although it was then still largely a construction site, and moved into place.
As more powerful locomotives arrived, #132 was redesignated to yard duties and, in 1923, was assigned to the Argentine Yards in Kansas City as an 0-8-0.