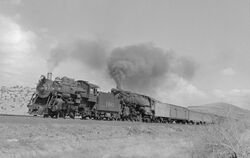 Santa Fe (ATSF) No. 1483
is a 4-4-2 "Atlantic" type steam locomotive built in 1910 by the Baldwin Locomotive Works for the Atchison, Topeka & Santa Fe Railway, and used on passenger service. It was the fourth of the 'Class 1480s' - or 'Bull Mooses' - to be delivered.
This engine was retired and scrapped in 1953.
No. 1483 is seen as a helper - or pilot engine - to the much larger, then-recently-rebuilt 4-8-4 No. 3761 in 1943, as can be seen on the photograph at the top-right-hand corner of the page.