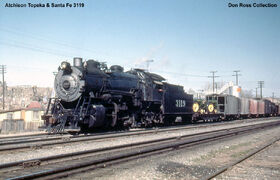 Santa Fe (ATSF) No. 3119
was a 2-8-2 'Mikado' steam locomotive built by the Baldwin Locomotive Works in 1913 for the Atchison, Topeka & Santa Fe Railway.
The locomotive was used for passenger and freight service.
On December 30, 1953 it was retired from service and was sold for scrap to Max Schlossberg Co.