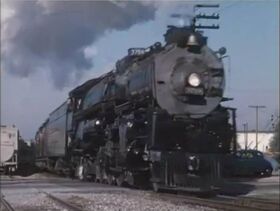 This article or section may need to be rewritten. You can help Locomotive Wiki by improving it!
Please remove this notice if the page has been edited majorly.
Santa Fe (ATSF) No. 3759 is a type of 4-8-4 'Northern', steam locomotive which was built by the Baldwin Locomotive Works in 1928 for the Atchison, Topeka & Santa Fe Railway.
This engine hauled passenger trains on the Atchison, Topeka & Santa Fe Railway along side with 3751 and 2903. This locomotive pulled a steam excursion called the "Farewell to Steam" in 1955 the same year that ATSF No 3751 runs.
In 1928 that locomotive was deliverd as the 3751 class engine.
Later in 1955 the engine was brought out of retirement at the request of the Railway Club of Southern California
This locomotive used to pull the same passenger trains that 3751 pulls.
It is listed on The National Register of Historic Places.
Today the locomotive is on static display at Locomotive Park in Kingman, Arizona; Find it south of West Beale St. and north of West Andy Devine Ave., east of Interstate 40.
Ad blocker interference detected!
Wikia is a free-to-use site that makes money from advertising. We have a modified experience for viewers using ad blockers

Wikia is not accessible if you've made further modifications. Remove the custom ad blocker rule(s) and the page will load as expected.