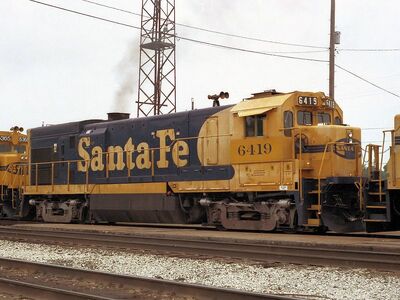 ATSF had on going rebuild programs for U-boats. After the success of the SF30C, Cleburne took aim at U23B's for rebuilding next. The SF30B is a one of a kind rebuild, which now belongs to Minnesota Commercial. ATSF saw it more effective to purchase new locomotives. The SF30B had many upgrades, the unit's horsepower was increased from 2300 to 3000 hp, as the Cleburne Shops installed a General Electric 7FDL-12F30UX prime mover. The electric systems were modified to Dash 7 standards, and Sentry Wheel Slip capability was added. The original 3,250 gallon fuel tank was kept, however overall capacity was reduced to 2,900 gallons, as a section was used  as a retention compartment/tank.
Ad blocker interference detected!
Wikia is a free-to-use site that makes money from advertising. We have a modified experience for viewers using ad blockers

Wikia is not accessible if you've made further modifications. Remove the custom ad blocker rule(s) and the page will load as expected.