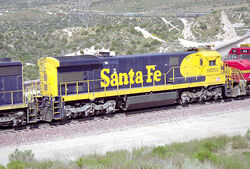 The ATSF (Atchison, Topeka, and Santa Fe) railroad SF30C, is a type of six-axle 3,000hp diesel locomotive rebuilt by the ATSF from GE U36C units they owned.
70 were built, a few still exist and are still in service on various shortlines and industrial companies; but are exceptionally rare in the US. Many are employed by ALL and MRS in South America. 
During the early-1980's, the ATSF was in the process of merging with the Southern Pacific (SP) railroad; the ATSF's long-time "neighbor", and were in need of newer, more long-lasting (non-conventional) types of diesel locomotives, but unable to purchase any new types from EMD or GE until much later as a result of financial issues related to the merger (hence the purchase such units as EMD's new and high-tech GP50 shortly after the merger around 1985-1986 once they earned such funds). Although the ATSF's neighbor Southern Pacific was still in the process of aquiring, refurbishing and rebuilding numerous types of older second-generation diesels (as part of their agreements with MK Rail and developing their GRIP programs; having established replacement warranty plans), the railroad was in debt due to having expired warranties with older "conventional" types of GE diesels (such as their aging Universal Series units), but still relied on their vast fleets of ever-lasting EMD 645-series units (such as the SD40-2 and SD45.) The question, however; was whether their so-called aging conventional types of GE diesels built from the mid-1960s to the early-1970s were still operable and capable of lasting for several more years than the original term of the guaranteed warranties (especially with the somewhat flawed 7FDL-series engines used on several six-axle types, which had short warranties compared to what EMD offered at the time). But as a result of encouragement from the ATSF's neighbor, the railroad decided to rebuilt their aging conventional types of GE units and establish a program similar to what they originally did with EMD with their CF7 program. Hence, the creation of the SF30C: a type of rebuilt diesel locomotive with GE C30-7 body, U36C's parts, and upgraded electrical systems.
The SF30C was primarily used on the ATSF's early intermodal trains for service throughout the desert plains in places such as California and New Mexico, but were eventually used on other revenue freights. Although reliable and successful at first they began to experience problems with such rebuilt units similar to what their predecessors originally experienced (such as the mechanical failures on the SP's rebuilt SD45 units being similar to their original fleets first ordered in 1964-1965). Numerous improvements were made which resulted in a long-term success. The locomotives were eventually displaced and retired by 1995 in favor of numerous succeeding types of GE locomotives (such as the C40-8W).
Ad blocker interference detected!
Wikia is a free-to-use site that makes money from advertising. We have a modified experience for viewers using ad blockers

Wikia is not accessible if you've made further modifications. Remove the custom ad blocker rule(s) and the page will load as expected.