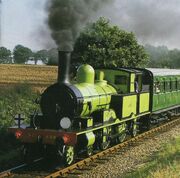 Adams, formerly 488, is an engine running on the Bluebell Railway.
Adams is painted in London and South Western Railway green, lined out in black and white. During the british Railways nationalisation act, when all the big 4 (LNER, GWR, SR & LMS) were rerationalised into one company, the Adams tank were all painted black. BR Black to be precise. They remined in that colour until they were all withdrawn from service in the 1960s. Only No.488 was returned to its LSWR (London Southwestern Railway) livery of bright apple gree, it is seen in today.
Adams is an LSWR 415 class radial tank engine, built in 1885 for hauling goods. These engines were famous because of their design. Heavy as these engines seemed, they are acctually very lightweight. Their weight was spread out on all of their wheels, making them ideal running locomotives for lightweight branches such as the Axeminster to Lyme Regis Brnchline. These engines were most famous for working on that line and the last three of the class' survivors worked there, till the branch closed. The other two were scrapped, but No.488 was bought by the Bluebell Railway, where it remains today.
This article is a stub. You can help Locomotive Wiki by expanding it.
Ad blocker interference detected!
Wikia is a free-to-use site that makes money from advertising. We have a modified experience for viewers using ad blockers

Wikia is not accessible if you've made further modifications. Remove the custom ad blocker rule(s) and the page will load as expected.