Early History
Edit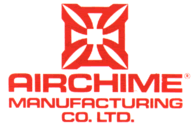 AirChime Industries (or Nathan-Airchime Industries) is a horn and warning device manufacturing company which was established during the 1930's, and was founded by Robert Eugene Swanson, an Englishman who lived on a ranch just outside of Nanaimo, British Columbia. Swanson had many years of experience working with steam whistles and other equipment, and also had a degree in engineering from the University of British Columbia.
After World War II, railways were dieselizing. The increased reliability, speed and efficiency of the new diesel-electrics came with a cost, however - the lovable and attention-getting chord of a steam-operated chime whistle was slowly fading away to the annoying single-tone honk of the air horn. These horns sounded a lot like truck horns - and since crossing equipment had yet to be invented, many accidents between train and car occurred.
Swanson, determined to avert future incidents, set to work on an air horn that duplicated the sound of a steam whistle. His plans saw fruition with great success - the world's first chime horn was created. The HexaTone H-6, as it was called, was a six-chime horn that played a chord of A-major Dominant 7th, the same chord a majority of Canadian steam whistles were tuned to play. On test day in downtown Vancouver, witnesses were amazed at the sheer volume and sound - many reported that the horn sounded just like a mainline steam locomotive's whistle. Swanson's work paid off, and he continued to improve his designs way into the late 70's.
Modern History
Edit
AirChime Industries eventually merged with Nathan Industries during the 1980's to form Nathan-AirChime Industries, to whom each horn was commonly referred to simply as a "Nathan" or "AirChime" horn rather than the full name. Aside from the continuation of the P-Series and K-Series of train horns being produced.
Unfortunately, Swanson passed away in 1994, after designing many different types of chime horns. The company eventually was purchased by Micro Precision LLC, to whom Nathan primarily produces the air horns, while AirChime produces parts for the horns, as well as different warning devices.
P-Series
M-Series
Other: J3, H5, N3
Resources
Edit
--This article is part of the AirChime Industries series.--