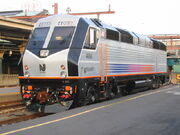 The 
Alstom/EMD PL42AC, 
a variant of the European Alstom Prima diesel locomotive, is a 4,200hp AC traction passenger locomotive used for commuter service for the New Jersey Transit (NJT).
This locomotive uses an EMD 16V710G3B-T1 engine as its prime mover, and uses four Alstom traction motors for propulsion. The PL42AC features a static inverter driven by the main engine for HEP delivery. Static inverters allow more control over the prime mover's RPM's while in HEP mode, down to notch 3 when necessary. Because HEP generation diverts power from the prime mover, power to the rails in HEP mode is 3,620hp.
Externally, the PL42AC more or less resembles the earlier GE Genesis Series.
Specifications
Edit
Length: 69ft 10 inches
Height: 15ft 5 inches
Width: 10ft 8 inches
Fuel tank: 2,250 gallons
Top speed: 100mph
Ad blocker interference detected!
Wikia is a free-to-use site that makes money from advertising. We have a modified experience for viewers using ad blockers

Wikia is not accessible if you've made further modifications. Remove the custom ad blocker rule(s) and the page will load as expected.