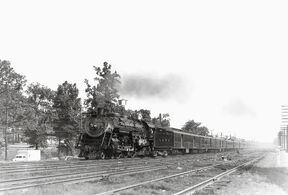 Atlanta and West Point No. 290
is a class P-74 4-6-2 steam locomotive. Her design is based on that of a USRA Heavy Pacific, and is the only surviving member of that type.
Atlanta and West Point 4-6-2 No. 290 was built in 1926 by the Lima Locomotive Works for the Atlanta and West Point Railroad. The engine is a 4-6-2 Heavy Pacific type steam locomotive, remarkably similar to Southern Railway's Ps-4s class. With sister locomotive No. 190 built for the Western Railway of Alabama, 290 pulled the Crescent passenger service from Atlanta, GA, to Montgomery, Alabama, until her retirement from revenue service in 1954. The engine was restored and returned to active service in 1989 and made it's first excursion run with a passenger special in Atlanta. 290 ran for three more years until it retired once again in 1992. Today, the engine is owned by the Atlanta Chapter of the National Railway Historical Society and it is currently undergoing a cosmetic restoration at the Southeastern Railway Museum. Once cosmetic restoration is complete, 290 will be put on display; there are no known opportunities for her to run again at this point.
Atlanta and West Point No. 290 made an apperance in the 1991 film Fried Green Tomatoes, where it made numerous apperences in the film.
290 was only one of 2 of its kind built, the other being Western Railway of Alabama No. 190, she was unfortunately scrapped, after retirement in 1954.