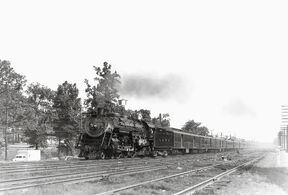 Atlanta and West Point No. 290
is a 4-6-2 steam locomotive.
Atlanta and West Point 4-6-2 No. 290 was built in 1926 by the Lima Locomotive Works for the Atlanta and West Point Railroad. The engine is a 4-6-2 Heavy Pacific type steam locomotive, remarkably similar to Southern Railway's Ps-4s class. With sister locomotive No. 190 built for the Western Railway of Alabama, 290 pulled the Crescent passenger service from Atlanta, GA, to Montgomery, Alabama, until her retirement from revenue service in 1954. 
Pop Culture
Edit
Atlanta and West Point No. 290 made an apperance in the 1991 film "Fried Green Tomatoes", where it made numerous apperences in the film.
Ad blocker interference detected!
Wikia is a free-to-use site that makes money from advertising. We have a modified experience for viewers using ad blockers

Wikia is not accessible if you've made further modifications. Remove the custom ad blocker rule(s) and the page will load as expected.