An auxiliary water tender or canteen are tenders that hold additional water for a steam locomotive allowing for long-distance operations without stopping for water.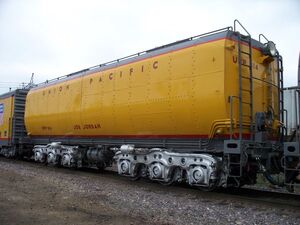 Most auxiliary tenders have storage spaces for tools, parts, etc. A good example of the storage/water tenders is Reading 2101's auxiliary water tender used in the American Freedom Train and Chessie Steam Special. The majority of aux. tenders are surplus or spare, and were converted for auxiliary tender use. Some major Class I railroads back in the steam age used these tenders. Perhaps the finest example was the Norfolk & Western's use of the tenders. N&W used auxiliary water tenders on freight, coal, and sometimes passenger trains. A few N&W auxiliary tenders exist today, including one example at Steamtown NHS. A few currently existing auxiliary water tenders in museums in the US, not excursiuon use, are listed:
Steamtown NHS, ex-N&W ex-High Iron Co. auxiliary tender.
C&O Railway Heritage Center: #614A, A Louisville & Nashville water tender #40973 which was Originally a Louisville & Nashville M-1 Berkshire tender.
National NYC Railroad Museum: ex-NYC, 2101A, converted Mowhawk tender for AFT. Damaged in roundhouse fire in 1979.
Richland, Washington: Converted tender in storage with Reading 2100.
Excursion use:
NS 21st Century Steam Program: Ex-N&W water tender, used for NKP 765 excursions. Ex-? water tender, Tennessee Valley RR Museum, used for Southern 630 excursions.
Pere Marquette #1225: Ex-Rock Island 4-8-4 water tender
SP 4449: DLMX 4219, which was orginally the tender of SP 4219, AC-10 is painted in Daylight colors, paired up with 4449 in excursions.
SP&S 700: #2575, which was orginally the tender of Great Northern #2575 painted all black, used for SP&S 700 excursions.
UP: Spare turbine tenders, converted for oil & water use with 844, 3985, and 4014.
CPR 2816: Ex-Delaware & Hudson 4-6-6-4 water tender painted in the Black/Maroon/Grey paint scheme, used for 2816's excursions.