An auxiliary water tender are tenders that hold additional water for a steam locomotive allowing for long-distance operations without stopping for water.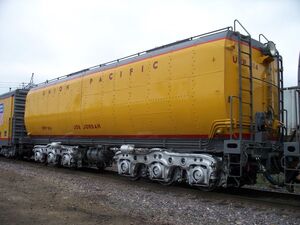 Most auxiliary tenders have storage spaces for tools, parts, etc. A good example of the storage/water tenders is Reading 2101's auxiliary water tender used in the American Freedom Train and Chessie Steam Special. The majority of aux. tenders are surplus or spare, and were converted for auxiliary tender use. Some major Class I railroads back in the steam age used these tenders. Perhaps the finest example was the Norfolk & Western's use of the tenders. N&W used auxiliary water tenders on freight, coal, and sometimes passenger trains. A few N&W auxiliary tenders exist today, including one example at Steamtown NHS. A few currently existing auxiliary water tenders in museums in the US, not excursiuon use, are listed:
Steamtown NHS, ex-N&W ex-High Iron Co. auxiliary tender.
C&O Railway Heritage Center: #614A, ex-?.
National NYC Railroad Museum: ex-NYC, 2101A, converted Mowhawk tender for AFT. Damaged in roundhouse fire in 1979.
Richland, Washington: Converted tender in storage with Reading 2100.
Excursion use:
NS 21st Century Steam Program: Ex-N&W water tender, used for NKP 765 excursions. Ex-? water tender, Tennessee Valley RR Museum, used for Southern 630 excursions.
SP 4449: Ex-?, painted in Daylight colors, paired up with 4449 in excursions.
SP&S 700: Ex-?, painted all black, used for SP&S 700 excursions.
UP: Spare turbine tenders, converted for oil & water use with 3985 and 844.
Ad blocker interference detected!
Wikia is a free-to-use site that makes money from advertising. We have a modified experience for viewers using ad blockers

Wikia is not accessible if you've made further modifications. Remove the custom ad blocker rule(s) and the page will load as expected.