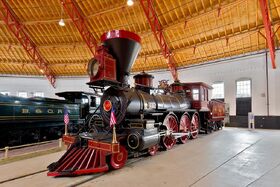 Thatcher Perkins
Details

Builder

B&O Mt. Clare Shops

Date Built

1863

Serial Number

unknown

Class

B

Wheel Arrangement

4-6-0 Ten-Wheeler

Gauge

Standard (4' 8 1/2" inches)

Driving Wheel diameter

60 inches (originally), 58 inches (present)

Cylinder Size

18" x 26" (originally), 19" x 26" (present)

Locomotive Weight

45.45 tons

Valve Gear

Stevenson

Tractive Effort

10,350 lbs. (present)

Boiler Pressure

75 psi

Retired

1892 (revenue)
V - E - T - D
Baltimore & Ohio Railroad No. 147 "Thatcher Perkins" is a type of 4-6-0 type steam locomotive it was built in 1863 by the B&O Mount Clare Shops to meet increased demand arising from the Civil War.
During the Civil War the engine was design to carry union troops and supplies.
A decade later, this locomotive type was needed to meet the demand caused by the Civil War and increased passenger traffic on the B&O.
No. 147 and it's sister engines were built to capture or destroys by the confidence soldiers in 1861.
After the Civil War, it continued in passenger and freight service, and was renumbered #282 in 1884.
Today the engine is on static Display at the B&O Railroad Museum.
The locomotive appeared in the movies "Rain Tree County" (1957) and "Rock Island Trail" (1950).
Seceding from the Confederate States, the new state was admitted to the Union on 20th June 1863.
The B&O had built its first 4-6-0 in 1853 to tackle the heavy grades in the Appalachian Mountains of what was then Virginia, now West Virginia.
West Virginia broke away from Virginia after the 1861 Wheeling Conventions during the Civil War.
The railroad gave it the name "Thatcher Perkins" for the 1927 Fair of the Iron Horse to honour its designer.
It was preserved by the railroad in 1892, when it was renumbered to represent another Ten Wheeler built in 1863, #117.
No. 147 also originally had a long combustion chamber with an ash hopper underneath. However, the hopper leaked and the combustion chamber was soon removed.
The locomotive in the soon-to-be-released video game Red Dead Redemption 2 resembles the Thatcher Perkins.