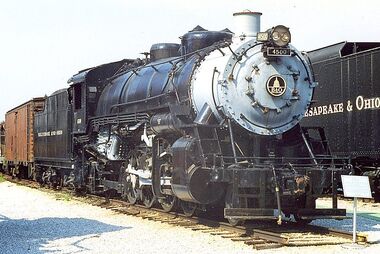 Baltimore & Ohio Railroad No. 4500
is a class Q3 2-8-2 'Mikado' type steam locomotive, built by the Baldwin Locomotive Works in 1918. Following America's entry into WWI, the USRA nationalised the nation's railroad system in the interest of ensuring the most efficient operations possible.
Ironically, WWI was almost over when #4500 was ready for service on 4th July 1918. Like the other USRA designs, #4500 was sturdy, functional and popular with maintenance and locomotive crews. It was also popular with the railroad companies, and a total of six hundred and forty-one copies of the type were produced by different US railroads in the years following the war.
No. 4500 operated on the B&O's Ohio Division mainly hauling freight until it was retired from service in 1958.
The Q-3's
Edit
The B&O Q-3s were the first USRA Light Mikados built, and the first USRA engine of any type built. 100 of them were built from July 1918 to February 1919. They had 63 inch driving wheels, a tractive effort of 53,699 lbs, and 200 psi boiler. Their tenders could hold up to 10,000 gallons of water and 16 tons of coal. According to locomotive crews, they described these engines as sturdy, functional, very comfortable, and easy riding as their popularity with the engine crews grew. In 1957, the B&O renumbered the engines from the 4500 - 4599 range to the 300 - 399 range to make way for some new diesels that were being renumbered. In 1956, the first of the Q-3s were retired from service and after the 1957 renumbering, they began dropping like flies. By 1960, the last Q-3 was retired from service. #4500 (Baldwin, July 4th, 1918) is on static display at the B&O Railroad Museum.
This was the first locomotive built for the United States Railroad Administration (USRA).
It was awarded National Historic Mechanical Engineering Landmark status in 1990.
The locomotive has been on display at the museum since 1964.