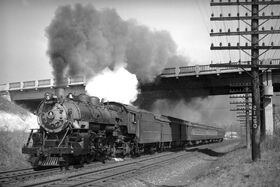 Baltimore & Ohio Railroad No. 5121
is a class P-3 4-6-2 "Pacific" type steam locomotive built in 1906 by ALCO's Schenectady Locomotive Works for the Baltimore & Ohio railroad.
The engine was assigned to haul DC-Baltimore passenger commuter service on the Baltimore and Ohio Railroad.
5121 was retired and sold for scrap in the early-mid-1950's.