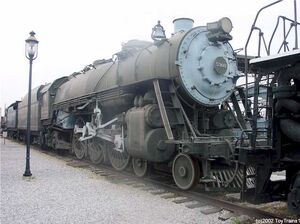 Baltimore & Ohio Railroad No. 5300 is a class P7 
4-6-2 'Pacific'
type
steam locomotive
 it was built by the Baldwin locomotive works in 1927 for the Baltimore & Ohio Railroad and known as the "President" Class.
This locomotive was design to haul passenger trains on the Baltimore & Ohio railroad and one named "President Washington".
5300 was named "President Washington" and was unveiled at the "Fair of the Iron Horse" in 1927.
The locomotives initially hauled the Royal Blue trains between Washington DC and Jersey City, NJ, but they were soon relegated to the western division by the B&O's early dieselisation in the 1930s with the EMC EA/EB units.
Today it's on static display at the Baltimore and Ohio Railroad Museum in Balitmore, Maryland.
It is the only survivor P7 from the Baltimore & Ohio Railroad.
No. 5300 was the B&O's "President Class," named, of course the "George Washington.
There were twenty in all honoring the first twenty presidents and originally wore an olive green livery with gold trims.
This locomotive is one of twenty powerful engines named after American Presidents.
Ad blocker interference detected!
Wikia is a free-to-use site that makes money from advertising. We have a modified experience for viewers using ad blockers

Wikia is not accessible if you've made further modifications. Remove the custom ad blocker rule(s) and the page will load as expected.