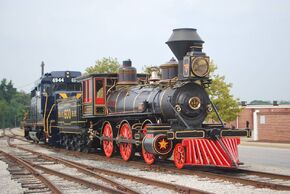 Baltimore & Ohio No. 600 "J.C. Davis" is a 2-6-0 "Mogul" type steam locomotive built in 1875 by the B&O Mount Clare Shops.
The engine was designed to haul mail and express passenger trains over B&O's Keyser, WV, to Grafton, WV, division, it was the first Mogul type (2-6-0) passenger locomotive rostered by the railroad.
In 1884, it was renumbered #918 but, in 1893, returned to its original number and was named "J. C. Davis".
It was retired in 1926, and it appeared at the Fair of the Iron Horse the following year.
It is now on static display at the B&O railroad museum.
No. 600 won first place at the US Centennial Exhibition in Philadelphia, PA, in 1876, where it was displayed as the then heaviest locomotive in the world.
During the 2003 Roundhouse roof collapse at the B&O Railroad Museum, the No. 600 "J.C. Davis" was severely damaged.
As of 2016 the locomotive has finally completed her cosmetic restoration.
Ad blocker interference detected!
Wikia is a free-to-use site that makes money from advertising. We have a modified experience for viewers using ad blockers

Wikia is not accessible if you've made further modifications. Remove the custom ad blocker rule(s) and the page will load as expected.