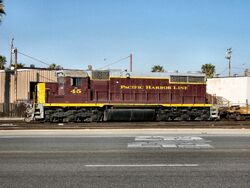 The B&O (Baltimore and Ohio) SD20-2 – not to be confused with the IC SD20 or the UP SD24 – is a type of rebuilt, six-axle, 2,000hp diesel locomotive rebuilt by the B&O Railroad during 1979 and 1980 with only 5 built, and 4 remaining in service. (All five original units were originally numbered 7700-7705, and eventually were numbered 2400-2405.)
The type of locomotive is a rebuild of an EMD SD35.
One SD20-2 is on the PHL roster,has been sent to scrap. 
The B&O SD20-2 was initially meant to be part of a rebuild program which involved the rebuilding of  older six-axle EMD diesel locomotives owned by the B&O portion of the Chessie System Corporation during the turn of the decade in 1979-1980. But because of the Chessie System Corporation's interest in merging with their long-time neighboring railroad corporation known as the Seaboard System (originally Family Lines System) to create what is now known as CSX, as well as the introduction of the EMD SD50 sparking interests with Chessie and Seaboard during the merger; the plan to mass-produce the successful type of low-horsepower, rebuilt type of diesel locomotive was ultimately cancelled.
All five of the original units served as heavy-duty yard switchers serving the Queensgate Yard in Cincinnati, Ohio and for hauling local trains (as with the EMD GP50 in later years), but were eventually were retired by CSX by 2004.
Two units now serve on the Ohio Central System shortline railroad corporation (all five were originally purchased; yet one was retired in 2006 and is still awaiting scrapping. The two PHL SD20's were scrapped as part of the clean air initative. 
All five of the original SD20-2 units were originally equipped with slug units when they served the Queensgate Yard in Cincinnati long before eventually serving as local or branchline units up until retirement by CSX.
Ironically, CSX #2404 was involved in a side-swipe and had its cab rebuilt, yet was originally intended for scrapping.
CSX #2402 has unfortunately been awaiting scrap since 2009 with B23-7 #5552 in an industrial area in Essington, Pennsylvania.
CSX #2402 was also one of the last units to remain in the "Stealth" scheme before eventually becoming patched with the "YN" ("Yellow Nose") patch shortly before retirement in 2009. (The unit didn't even receive hood or nose lettering, however.)
The SD20-2 is also one of the only types of EMD diesel locomotives to be named after its horsepower rating, yet it isn't an actual production EMD locomotive.