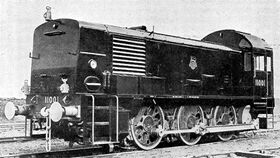 BR 'Bulleid' No. 11001 is a 0-6-0 diesel locomotive, which was built at the Ashford Locomotive Works in England in 1949, and was designed by Oliver Bulleid when he was Chief Mechanical Engineer of the Southern Railway (UK). It was powered by a Paxman RPH Series 1 engine, capable of delivering at 1,250 rpm.
It was driven via a Vulcan Sinclair fluid coupling to a Synchro-Self-Shifting Powerflow gearbox. The gearbox provided three forward and reverse gears in either high or low range, with top speed ranging from 5 mph (8 km/h) in 1st gear, low range up to 36 mph (58 km/h) in top gear/notch.
It served as a "load test unit", and survived until 1959, when it was withdrawn and eventually scrapped at Ashford Works.
The locomotive's controls were laid out similar to those of a steam locomotive, because there were at that time no drivers with experience of driving diesel locomotives.
Ad blocker interference detected!
Wikia is a free-to-use site that makes money from advertising. We have a modified experience for viewers using ad blockers

Wikia is not accessible if you've made further modifications. Remove the custom ad blocker rule(s) and the page will load as expected.