The BR; British Railways; Class 04 is an
0-6-0
hydraulic shunting diesel locomotive that was built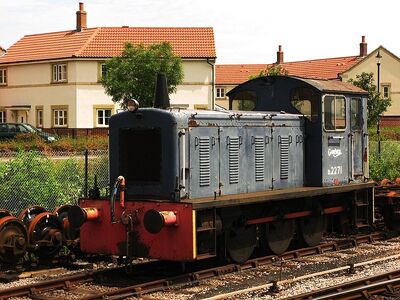 between 1952 and 1962, and was the basis for the later Class 03 built in the British Railways workshops. The Class 04 locomotives were designed by the Drewry Car Co. and were built by the Vulcan Foundry (not to be confused for its US counter-part) and later examples being built by Robert Stephenson & Hawthorns.
Technical and Engineering Data
Edit
Mechanically, they are almost identical to the BR Class 03 however the Class 04 has a larger fuel tank as can be seen beneath the bulge at the rear of the bonnet. As per the 03 they are fitted a 24 litre Gardner 8L3 of 204 hp and a Wilson-Drewry 5 speed gearbox. They are of a C wheel arrangement with an RF11 final drive and the wheels being driven via a jackshaft beneath the cab which is connected to the coupling rods.
The Class 04 locomotives were scattered all across the network during their brief service life with some being used on the Wisbech and Upwell Tramway and the 2 being allocated to the ipswich docks tramway. They were in use between 1952 and 1971 on British Railways with the first withdrawal taking place in 1968 and the last in 1971. There are 18 examples preserved with a further example having been exported to Italy where it remains at work.