BR Class 150 (Sprinter)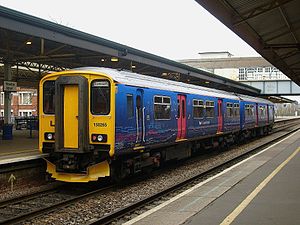 '
Details

Years built

1984 - 1987

Builder

BREL York

Number Produced

137

Years in Operation

1984 - present

Fleet Numbers

Unknown

Unknown

Type of Electric Train

Unknown

Number Operational

Unknown

Number Preserved

0

Number Scrapped

0

Power Source

Unknown

Dimensions
(l x w x h)

Unknown

Gauge

Unknown
V - E - T - D
Class 150s are used mostly for short distance runs in a fashion serving a mainline or as a semi- metro commuter train for a larger city. Overall, 137 units have been produced, and their main job was to replace many older 'heritidge' DMUs.
The Class 150, along with other sprinters, was developed in british rail times as the large operational fleet of older DMUs was in dire need of replacment. Two solotions where devised, the low cost Pacers, and the sprinters.
When introduced, the Class 150s had unique interior door open/close buttons that were square, blue in the North of England/Southern Scotland and Yellow/orange in the south, and lit up turquoise in the North or bright yellow in the South of England/Wales when the doors were enabled. The illumination feature was intended to aid visually impaired people, although they did not meet current standards set out by disability regulations because they had no raised braille and are too small for some disabled people to locate. As a result of this, the blue buttons are being replaced by the standard EAO series 56 'easy to see, easy to press' raised circular door button, with braille writing for the visually impaired, over a yellow surround to comply with the Rail Vehicle Accessibility Regulations.
They are the slowest of all operational sprinters.
References
Edit
Site: Wikipedia.org
Book: Railway Magazine
Ad blocker interference detected!
Wikia is a free-to-use site that makes money from advertising. We have a modified experience for viewers using ad blockers

Wikia is not accessible if you've made further modifications. Remove the custom ad blocker rule(s) and the page will load as expected.