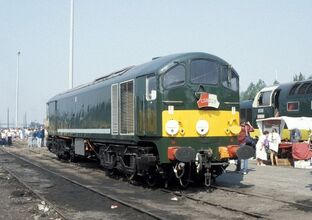 The BR, British Railways, Class 28 (Metropolitan-Vickers Type 2; or 'Metrovicks' as they were popularly known) is a type of five-axled (or Co'Bo') diesel locomotive which was built as part of the British Railways 1955 Modernisation Plan as a result of the End of the Steam Era in the UK (and subsequently in the United States during the same time period).
The locomotives had a unique Co'Bo' (UIC Notation) wheel arrangement (a 6-wheel bogie at one end, a 4-wheel bogie at the other) – unique in British Railways practice though not uncommon in other countries, notably Japan. This affected their route availability, due to the different axle loading at each end of the loco, and made maintenance more complicated. The maximum tractive effort of 50,000 lbf (220 kN) was unusually high for a Type 2 locomotive but, as there were five (not four) driving axles, the risk of wheelslip was minimal.
The locomotive type was retired early due to "teething" (exhaust and brake troubles, like with the BR Class 17 'Clayton' clearly not noticing the horrible problems with CIÉ's A class); but were all unfortunately scrapped but one, which is preserved, on the East Lancashire Railway, just north of Manchester, UK.