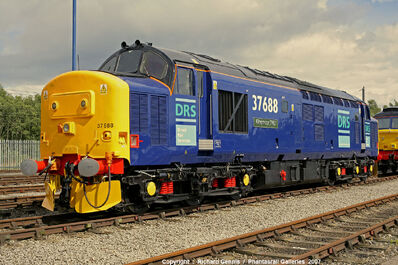 British Rail's Class 37 locomotives are some of the most long lived and successful locomotives in the UK. Built by English Electric at the Vulcan Foundry and Robert, Stephenson and Hawthorns between 1960 and '65, they were part of the dieselisation effort by British Rail that finally ended steam in 1968. Considering how many remain in service after well over 50 years, they are a true testament to the quality of EE locomotives.
Technical Data
Edit
Most remain fitted with their original English Electric 12CSVT engines of 1,750 b.h.p, however most had their original EE822 generators were replaced in the 1980s with Brush BA1005A alternators. They are capable of a top speed of 90 m.p.h or 80 m.p.h with regeared CP7 bogies. The bogies are of a Co' Co' wheel arrangement which gives the 37 a route availability of 5 which is one of the primary reasons they are still at work on the network.
Ad blocker interference detected!
Wikia is a free-to-use site that makes money from advertising. We have a modified experience for viewers using ad blockers

Wikia is not accessible if you've made further modifications. Remove the custom ad blocker rule(s) and the page will load as expected.