The
British Railways
Class 40 is an additional six-axle (1Co-1Co), 3,550hp (depending on tractive effort, which often varies due to the additional leading/trailng axle) type of
diesel locomotive
which was built by English Electric between 1958 and 1962.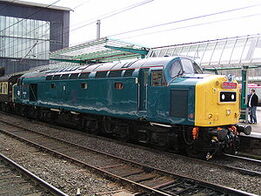 They were for a time, the pride of the British Railways' early diesel fleet. The Class 40 showed heavy tractive effort at high speed, while at low speed would lag in M.U. consists. Despite their initial success, by the time the last examples were entering service, they were already being replaced on some top-link duties by more powerful locomotives. As they were slowly retired from express passenger use, they were eventually used on secondary passenger and freight services where they worked for many years.
They were retired from revenue service from the BR in 1985, but still operate on other railways throughout the UK. (Such as EWS.)
They were often nicknamed "cluggers" or "claggers" because of the way their engines sounded.