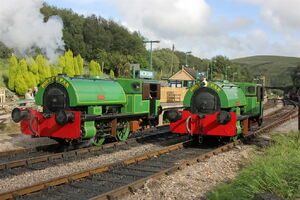 Alfred and Judy
are two unusually low four-wheel
0-4-0ST
saddle-tank railway
steam locomotives
. The unusual design was required to cope with some extremely tight curves, and a very low bridge under the Cornish Mainline (one of the busiest in Great Britain.) They originally worked at the Port of Par in the UK, and are now both preserved in operational condition on the Bodmin and Wenford heritage railway.
They actual type of steam locomotive originally was meant to be mass-produced, but the plan was scrapped.
Alfred's serial number, builder number, or works number was 2572, while Judy's is 3058.
Both Alfred and Judy are actually some of the smallest types of standard-gauge steam locomotives ever built.