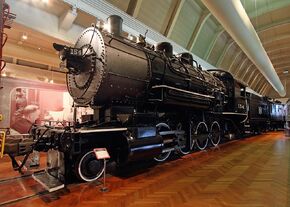 Bessemer & Lake Erie RR No. 154 is a class C3B 2-8-0 "Consolidation" type steam locomotive it was built by Baldwin in 1909 for the Bessemer & Lake Erie Railroad.
No. 154 spent its forty-four year operating life on the Bessemer & Lake Erie before retiring in 1953 and being held for potential donation to a museum.
It waited a long time, however, as it was not until 1984 that it was donated to the Illinois Railway Museum in Union, IL.
No. 154 is now a static display at the Henry Ford Museum.
In 1989, it was traded for Detroit, Toledo & Ironton #16.
Four Consolidation locomotives were built for the Bessemer & Lake Erie by the Pittsburgh Locomotive Works in 1900, and #154 was one of six more acquired in 1909 from Baldwin.
It used be a public display at the Illinois Railway Museum from 1984-1989.
Ad blocker interference detected!
Wikia is a free-to-use site that makes money from advertising. We have a modified experience for viewers using ad blockers

Wikia is not accessible if you've made further modifications. Remove the custom ad blocker rule(s) and the page will load as expected.