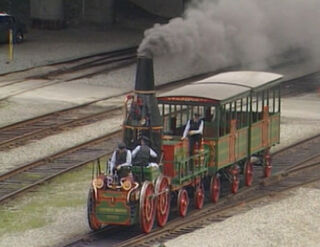 The
Best Friend Of Charleston
(or simply "Best Friend") is a type of vertical
boiler
,
0-4-0
,
steam locomotive
. It was built in 1830 by the South Carolina Rail Road Company by the West Point Foundry of New York. It is notable for being one of the first steam locomotives to be built in the US.
Unfortunately, the Best Friend's boiler exploded after just a few months of service. Some parts of the Best Friend were used to construct another locomotive known as the Phoenix.
A replica was built in 1928 to commemorate this rather famous locomotive. This replica is now currently preserved at Norfolk Southern's headquarters in Atlanta, Georgia.
The 1928 replica was also featured at the 1939 New York World's Fair with B&O's William Mason.
The funnel is located behind the engineer with the whistle and valve gear.
In 2005, it was displayed at the New York Stock Exchange (NYSE) to commemorate the anniversary of the United States' development of railroad transportation.
There are 2 replicas that exist: the first (and more famous) replica was built in 1928 to commemorate the centenary of the South Carolina Canal and Rail Road and was widely exhibited in the following years; it is currently on display at the Norfolk Southern's headquarters in Atlanta, Georgia, and is fully functional. A second full-size replica built in 1970 is on display at the South Carolina State Museum in Columbia, SC.
The Best Friend was the first engine built entirely in the United States – at West Point Foundry in New York – and it was the first to carry the U.S. mail.
It is widely acclaimed as the first locomotive to be built entirely within the United States for revenue service.