The "Best Friend Of Charleston" (or simply "Best Friend") is a type of vertical boiler, 0-4-0, steam locomotive. It was built in 1830 by the South Carolina Rail Road Company by the West Point Foundry of New York.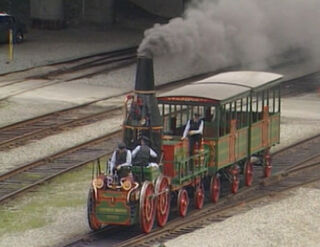 It was one of the first steam locomotives to be built in the US, as well as the first to suffer a boiler explosion, which resulted in having its remaining parts used to built the "Phonex".
It, unfortunately, met its fate after only a year in service, and a replica was constructed to commemorate the antique steam locomotive. The replica is now currently preserved at Norfolk Southern's headquarters in Atlanta, Georgia.
The replica was also featured at the 1939 New York World's Fair with B&O No. 25 (William Mason).
The funnel is located behind the engineer with the whistle and valve gear.
In 2005, it was displayed at the New York Stock Exchange (NYSE) to commemorate the anniversary of the United States' development of railroad transportation.
The replica was built in 1928 to commemorate the centenary of the South Carolina Canal and Rail Road and was widely exhibited in the following years.
The Best Friend was the first engine built entirely in the United States – at West Point Foundry in New York – and it was the first to carry the U.S. mail.
Ad blocker interference detected!
Wikia is a free-to-use site that makes money from advertising. We have a modified experience for viewers using ad blockers

Wikia is not accessible if you've made further modifications. Remove the custom ad blocker rule(s) and the page will load as expected.