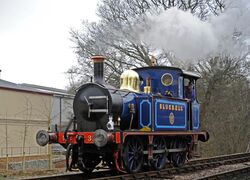 Bluebell is a P-Class locomotive built by the South Eastern and Chatham Railway, in 1910. With it's SE&CR being number 323, it worked most of it's life with light duties, such as small suburban services and shunting in the South East region of the UK.
Bluebell's history was reasonable average until it was bought for preservation by the Bluebell Railway Preservation Society, as their second engine in 1960, the first being Stepney.
During 1961 number 323 was given a name for the first time, 'Bluebell', and has been Bluebell Railway's flagship loco ever since, along with Stepney. Bluebell has featured in publicity and media many times, notably in the late Reverend Wilbert Awdry's Railway Series books, where she and Primrose featured in book number 18, 'Stepney The "Bluebell" Engine'.
Bluebell has been painted in a handful of different colour schemes. Originally in the SE&CR's standard green and gold, Bluebell has also seen life in the Southern Railway (UK)'s standard green lettering and British Railways standard colours. In the early 60's at Bluebell Railway Bluebell was repainted blue with a red nameplate. Nowadays the loco is painted in a revamped version of this sceme and is a standard blue with lighter lining with the railway's crest and the letters 'BLUEBELL' on the tanks.