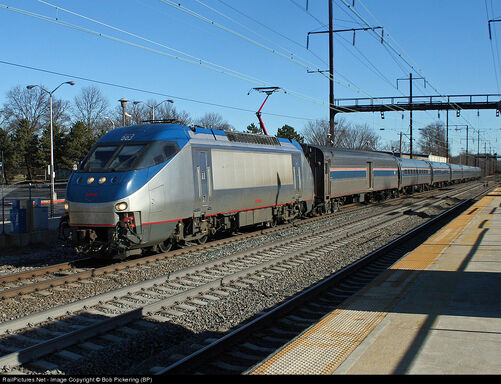 The Bombardier–Alstom HHP-8 (High Horse Power 8000) is a type of twin-cab electric locomotive manufactured by a consortium of Bombardier Transportation and Alstom for use by Amtrak and the Maryland Area Regional Commuter system. The locomotive's electrical drive technology is directly derived from the SNCF BB 36000 manufactured by Alstom.
An initial order of 15 HHP-8s was made by Amtrak at the same time (in 1998) as the acquisition of the Acela Express trainsets; the locomotives have similar external styling as the Acela trainsets, but are designed to operate as true locomotives, hauling conventional passenger rolling stock. The units were ordered to replace Amtrak's GE E60s and supplement the aging EMD/AESA AEM-7.
MARC also acquired six HHP-8s.The locomotives are used on its electrified Penn Line (which is part of the Northeast Corridor) between Perryville and Washington, DC. The electrical traction system is directly derived from the system used on Alstom's Astride locomotives. The locomotives were designed for up to 135 mph operation but are actually operated to FRA Tier 1 crashworthiness standards at up to 125 mph top speeds.
As of 2017, MARC is the only operator of the HHP-8. Amtrak's locomotives were retired in November 2014 due to reliability problems.
Problems and Retirement
Edit
In 2002 Amtrak's fleet of 15 units was temporarily withdrawn along with Acela express trains due to cracks in components of the bogies.
Amtrak's HHP-8's were unreliable, with the units requiring unscheduled maintenance an average of once a week in 2010. As a result Amtrak made the decision to retire the fleet after only about 15 years in service. In 2010 Amtrak ordered a fleet of 70 Siemens ACS-64 locomotives that will replace both the HHP-8 and the older AEM-7 locomotives. It's expected that this standardized fleet will have several price economies, including lower maintenance costs. The units will be returned to Bombardier upon retirement. Amtrak retired the HHP-8 on November 7, 2014 and all are now stored. It is unknown what will become of the now-surplus locomotives, though it is likely that most of them will be scrapped or cannibalized for any useful parts.
While reports in 2016 indicated that MARC planned to retire their HHP-8 locomotives and replace them with the Siemens Charger,[1] MARC instead started a refurbishment program for its HHP-8s in 2017.[2] As of 2017, the first HHP-8 reconditioned under this program had been delivered and was undergoing successful testing.[3]
References
Edit