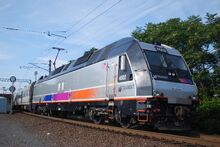 The Bombardier ALP-45DP is a type of dual-mode passenger locomotive currently in production with Bombardier Transportation.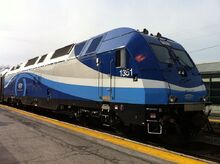 To date, only New Jersey Transit (in the state of New Jersey in the United States) and the Agence Metropolitaine de Transport (AMT) (from Montreal, Canada) commuter railroads have purchased these locomotives.
New Jersey Transit ordered 26 locomotives, to provide a one-train ride on combined electrified and non-electrified track. The fleet has since been expanded by 35 more locomotives. They are numbered 4500-4534. NJ Transit operates the locomotives as dual-mode,
electric
-only, and
diesel
only. NJ Transit ALP-45DP #4534 has the distinction of being the 100th "ALP Type" Locomotive built by Bombardier Transportation for NJ Transit and has a special Decal on the Side of the Locomotive to commemorate the Locomotive.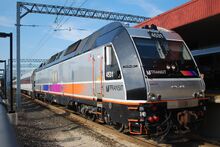 The Agence Metropolitaine de Transport has ordered 20 locomotives to replace their old stock of leased locomotives and GMD GP9u locomotives. They are numbered 1350-1369. The AMT currently uses these locomotives as diesel locomotives, but they will begin operating dual-mode when the Mascouche commuter line opens. The new line will be mostly diesel, but will have to operate through the electric-only Mont-Royal tunnel.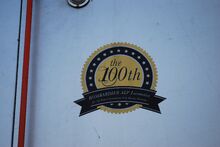 Specifications
Edit
This locomotive is capable of operating on both electric power through overhead wires and as a diesel locomotive through 2 Caterpillar 3512 diesel locomotive, each rated at 2,100hp.
Under the wires, the ALP-45DP is capable of 5900hp through its 4 Bombardier MITRAC motors. Away from the wires, the ALP-45DP has the same tractive effort and horsepower as the EMD/Alstom PL42AC, producing 4,200hp (at alternator). One of these engines must run at full power in order to deliver HEP to passenger cars while in diesel mode.
Top speed under diesel mode is 100mph, and top speed in electric mode can reach 129mph.
During initial testing of the AMT units, 1350 derailed on Central Station's tracks, which immediately lead to the removal of all ALP-45DP locomotives from servicing Montreal's Central Station. The cause of the derailment was immediately traced to the heavy weight of the locomotives, although a later report would conclude that the poor condition of the track at Central Station was to blame. All ALP-45DPs currently delivered are now back in service.