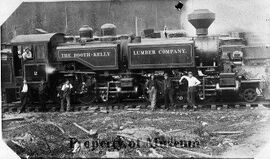 Booth-Kelly Lumber Co. No. 2
is a 2-6-6-2T "Articulated" steam locomotive. It was built in January of 1910 by the Baldwin locomotive works for Booth Kelly Lumber Company.
The locomotive was used to operate on the Booth-Kelly Lumber Company's logging railroad operated in the area around Wendling, Oregon, northeast of Eugene.
The No. 2 was successful in service, although it was the only logging Mallet of its type until 1920 when Booth-Kelly #6 was ordered.
By the 1940's Booth-Kelly generally used skeleton log cars, although before 1920 flat cars equipped with logs bunks were used.
The locomotive operated until 1945, when it and the Booth-Kelly's other steam locomotives were retired.
The locomotive remained in storage until 1947 when it was now scrapped.
This was the first tank-type Mallet built for logging service, and was also the first of Baldwin's more or less standard model 44" driver logging Mallets.
The No. 2 was used as a road engine, and would usually haul about twenty loaded cars to the mill per day.
In 1913, converted from wood to oil firing. Radley & Hunter stack replaced with straight stack.
It used to wear two different stacks the first one was a Radley & Hunter stack then later it was replaced with a straight stack.