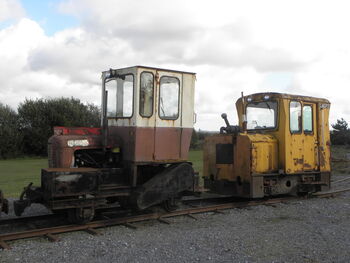 In 1980 12 diesel hydraulic locomotives were bought by Bord na Móna in 1980 for hauling ash and turf, these locomotives built by Gleismac in Italy have dwindeled in number over the years with only one left in service hauling diesel and lubricating grease around the network.
Technical Data
Edit
The locomotives have carried many different engines over the years however the last one left in service is thought to have a maybach engine. They had a hydraulic transmission driving wheels in a B arrangement.
Ad blocker interference detected!
Wikia is a free-to-use site that makes money from advertising. We have a modified experience for viewers using ad blockers

Wikia is not accessible if you've made further modifications. Remove the custom ad blocker rule(s) and the page will load as expected.