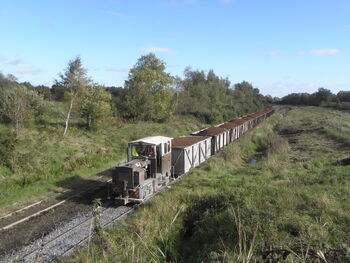 During the 1990s Bord na Móna realised that their locomotives were becoming increasingly obsolete and that replacements were needed. So at Bord na Móna's own works production began on a new kind of locomotive.
Technical Data
Edit
The locomotives come in two wheel arrangements, 0-4-0DH (diesel hydraulic, no coupling rods) and B (Diesel hydraulic, coupling rods) They are fitted with automatic transmissions and have a top speed of 11 m.p.h
These newer locomotives are often used on the ash trains from peat/biomass fired power plants and on milled peat trains.
Ad blocker interference detected!
Wikia is a free-to-use site that makes money from advertising. We have a modified experience for viewers using ad blockers

Wikia is not accessible if you've made further modifications. Remove the custom ad blocker rule(s) and the page will load as expected.