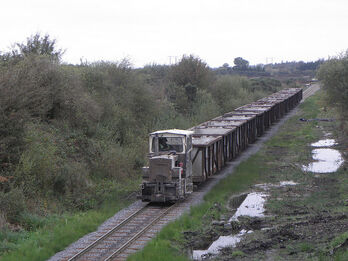 Bord na Móna's "Wagonmaster" locomotives were designed in house but built by Hunslet between 1962 and 1986. The locomotives are often seen working peat trains on Bord na Móna's 3ft gauge railway network.
Technical Data
Edit
As previously stated these locomotives are of 3ft gauge, they originally contained Ford engines of 96h.p however in recent years these locomotives have been rebuilt with a variety of other engines. They were of a B wheel arrangement with a standard ford automotive gearbox driving a fluid coupling driving the wheels. There were clutch pedals on either side of the cab to allow for bi-directional running.
The bulk of the locomotives are still in service and three (LM 210, LM 233, LM 295) have been rebuilt with purely hydraulic transmissions.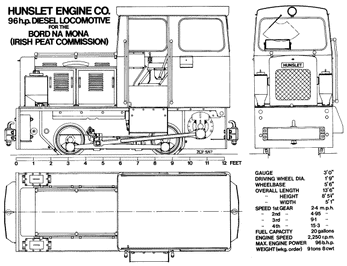 Ad blocker interference detected!
Wikia is a free-to-use site that makes money from advertising. We have a modified experience for viewers using ad blockers

Wikia is not accessible if you've made further modifications. Remove the custom ad blocker rule(s) and the page will load as expected.