B&M #3713 is a 4-6-2 Pacific type locomotive built by Lima in 1934.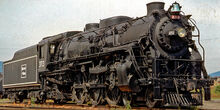 In 1934 the B&M purchased five new Pacific type engines numbers 3710-3714. These engines contained several features that earned them the title of "Super powered" locomotives. After the purchase of another batch of Pacifics the railroad held a contest to give each engine a name. 3713 was given the name of "The Constitution".
3713 worked as a mainline passenger engine all the way till her decommissioning in 1958, after helping pull trains through flooded sections of track.
In 1960 F. Nelson Blount acquired the locomotive and put it on display at numerous location in the Northeast until it reached its current residence at Steamtown.
Restoration
Edit
In 1990 a partnership was made with several organizations to bring the 3713 back under steam. Progress has been slow with funding being an issue and the museum being tied up with other restorations. As of January 2016 the engine and parts car are inside the roundhouse while the team figures out the future steps.
Ad blocker interference detected!
Wikia is a free-to-use site that makes money from advertising. We have a modified experience for viewers using ad blockers

Wikia is not accessible if you've made further modifications. Remove the custom ad blocker rule(s) and the page will load as expected.