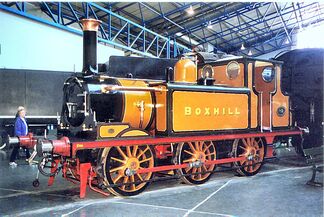 Boxhill is a type of LBSCR Class A1x "Terrier" 0-6-0T (briefly an 2-4-0T) steam locomotive built in Brighton works in 1880. He was the third to last "Terrier" to be built. He was numbered 82 when built, then 682, and later 380S when it was used as a works shunter in Brighton.
It served as a shunter or switcher for yards along the LBSCR's routes as well as hauling branchline trains.
It was eventually retired in 1947, after spending 27 years as the Brighton works shunter - no. 380S. Happily, Boxhill was saved from scrap, followed by "his" brother Stepney in 1960; the latter being preserved at the Bluebell Railway as their very first preserved steam locomotives. Boxhill was donated to the York Railway Museum, although "he" spent some time in Scotland with (among a few other preserved engines) LSWR T3 no. 563 (also preserved by the NRM, but is now sold to the Swanage Railway), then the BTC's old transport museum at Clapham, and finally ended up in York.
As of today, "he's" currently on static display at the National Railway Museum in York, England, UK. Boxhill is a part of the National Collection.
The preservationists preserved Boxhill and retained his original boiler, although he received a new funnel from the Southern Railway, whom salvaged his original funnel or smokestack.
Boxhill is one of only two "Terriers" that were never steamed in preservation, the other being no. 54 'Waddon' - who resides in Canada. Both were never re-built into the A1x specifications, though Waddon now carries an A1x boiler!
He was converted to 2-4-0T in March 1905 for auto-train trials - together with no. 81 "Beulah" - but was restored to an 0-6-0T in 1913.