Brake Lever
Comment

1
489pages on
this wiki
A
Brake Lever
is a handle which is used to apply the brakes of a locomotive or an entire train.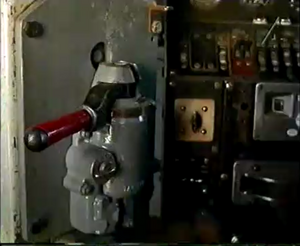 In steam and diesel locomotives the brake levers look similar. However, in certain Electric locomotive, a handle which resembles a joystick is used instead.
There are several different types of brake levers used for different purposes.
Lap brake - The main brake which controls both the locomotive and the entire train's brakes.
Dynamic brake - The secondary brake which is used to help slow a train or locomotive to a limited speed without needing the use of appling the emergency brakes. (Only placed or located in certain types of diesel and electric locomotives built from 1960 to present.)
Independent brake - The locomotives own individual brakes which only stop the locomotive in which the brakes are applied.
Emergency brake - A type of brake which immediately haults a locomotive or an entire train, and is only used in emergency situations. (Hence the name.)
Train brake - A type of brake which controls the brakes on the train and on the locomotive.
Locomotive brake - A brake that controls the locomotive to slow the locomotive and the train down.