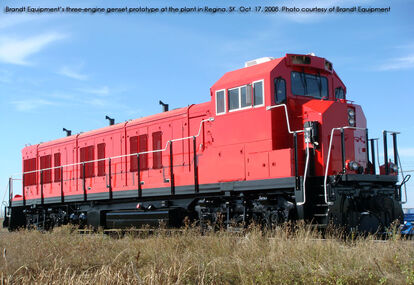 Brandt Road Rail is a division of Brandt Equipment. The company is based in Regina, Saskatchewan. The prototype genset sits on an entirely new frame. According to information released by Brandt, the prototype weighs in at 270,000 pounds, and uses CCB-26 brakes. Its number and official designation aren't available as of Nov. 2008, but there is some additional information that they have provided. They say that other build-to-order options like dynamic brakes wil be available as well. Brandt's prototype genset uses three John Deere 6135H engines for power. Those engines generate 600 horsepower each for a total of 1,800 hp. This is the only Brandt Genset as of January 2014. This locomotive has been stored away since 2009.
Ad blocker interference detected!
Wikia is a free-to-use site that makes money from advertising. We have a modified experience for viewers using ad blockers

Wikia is not accessible if you've made further modifications. Remove the custom ad blocker rule(s) and the page will load as expected.