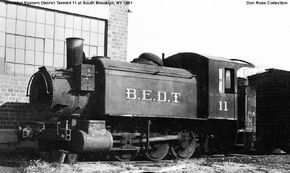 Brooklyn Eastern District Terminal No. 11 was a type of 0-6-0 steam locomotive. It was built by the Baldwin Locomotive Works in 1922 for the Brooklyn Eastern District Terminal.
This locomotive was designed to work as a switch engine for the Brooklyn Eastern District Terminal shunting freight cars and passenger cars.
In 1958, it was retired from service and it was stored on a siding near the engine shed in South Brooklyn, New York.
The locomotive remained until July 1962, when it was cut up for scrap.
Ad blocker interference detected!
Wikia is a free-to-use site that makes money from advertising. We have a modified experience for viewers using ad blockers

Wikia is not accessible if you've made further modifications. Remove the custom ad blocker rule(s) and the page will load as expected.