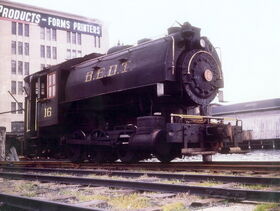 Brooklyn Eastern District Terminal No. 16 is an 0-6-0ST steam locomotive built in 1923 by H.K. Porter for the Astoria Power & Light Company as their No. 5.
It was used for the Astoria Power & Light Company as a switch engine.
In 1938, it was sold to the Brooklyn Eastern District Terminal Railroad (BEDT), one of the many waterfront railways along the shores of the East River and New York Harbor. The BEDT numbered it as their No. 16.
It was operational for a couple of more years until Christmas Day, 1963 when it was retired from revenue service.
It is now at the Railroad Museum of Long Island where it is put on static display.
Ad blocker interference detected!
Wikia is a free-to-use site that makes money from advertising. We have a modified experience for viewers using ad blockers

Wikia is not accessible if you've made further modifications. Remove the custom ad blocker rule(s) and the page will load as expected.