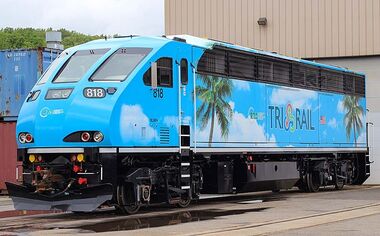 After a multi year absence, Brookville Locomotive is back producing locomotives, its newest and most advanced locomotive to date, is the BL36PH. This locomotive is rated at 3,619 hp utilizing a MTU 20V4000 ptime mover that meets EPA Tier 3 standards, the units are Tier 4 field upgradeable. This unit owes its unique look to Cesar Vergara, who has also designed the shells of other locomotives including the GE Genesis Line and EMD F59PHI. Tri Rail is the Launch customer ordering ten units with an option for 17 more, plus four units may be built for Sound Transit's Sounder commuter operation in Washington. 
Brookville has also built other locomotives such as their BL14CG, BL20CG, BL20GH, and GS1400.
MTA rosters BL14CG's and BL20CH's. B&P had two early endcab switchers rebuilt using Brookville kits in 2010 and 2011.
Ad blocker interference detected!
Wikia is a free-to-use site that makes money from advertising. We have a modified experience for viewers using ad blockers

Wikia is not accessible if you've made further modifications. Remove the custom ad blocker rule(s) and the page will load as expected.