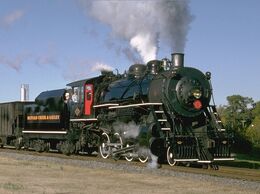 Buffalo Creek & Gauley Railroad No. 4
is a 2-8-0 "Consolidation" type steam locomotive built by the Baldwin locomotive works in 1926 for the National Railway of Mexico as oil burner #200 but was never delivered. Instead, it was converted to burn coal and sold to the Buffalo Creek & Gauley Railroad in West Virginia as #4.
This locomotive used to haul passenger and freight trains for the Buffalo Creek & Gauley Railroad based out of Gauley, WV.
There was a rail fan trip on the Buffalo Creek & Gauley in Summer 1963 and, during its final years, as many as 20,000 rail fans came to view the railroad's steam operations.
On February 27th, 1965, #4 hauled the last revenue train on the Buffalo Creek & Gauley Railroad. After that, it was sold to the Quakertown and Eastern, a tourist line operating out of Quakertown, PA. It was then purchased by the Southwest Virginia Scenic Railroad in Hiltons, VA.
The North Carolina Transportation Museum bought #4 in 1978 where it was restored to operating condition and hauled the museum train ride and they lettered and numbered it as Southern Railway No. 604.
In 2015, the NC Transportation Museum sold the engine to the Durbin and Greenbrier Railroad. It is currently being restored to operational status in Cass, WV.
No. 4 was the first steam locomotive to operate at the NCTM.
While the locomotive was under restoration, another locomotive Southern Railway No. 542 was painted up as 604, using the 4's tender.
On 4th November 1995, the museum hosted a commemoration of the 30th anniversary of #4's final run from Swandale, for which it was restored to its Buffalo Creek & Gauley livery.
In 2001 it was taken out of service for maintenance that was never finished.