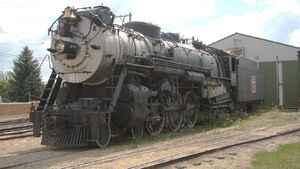 Chicago, Burlington, and Quincy No. 3007 is a class S-4 4-6-4 "Hudson" type steam locomotive built by the Baldwin Locomotive Works in 1930.
It went into service pulling passenger trains on the the Chicago, Burlington & Quincy such as the Ak-Sar-Ben, the Aristocrat and the Black Hawk, eliminating the need to swap one locomotive for another during the trip.
The S-4 was one of the most successful steam locomotives operated by the CB&Q. #3002 was streamlined to haul the stainless-steel Zephyrs.
No. 3007 was retired in 1961 and it was donated to the city of Quincy, Illinois where it was displayed for a time in Quinsippi Island Park near the Burlington Route's new bridge over the Mississippi River.
It was then moved to Griggsville in late 1979/early 1980.
It is now part of the collection at the Illinois Railway Museum.
It also fast: one is credited with hauling ten standard passenger cars between Cochrane and La Crosse, WI, at 112 mph.
It was Renumbered #4000, named Aeolus (keeper of the wind) and nicknamed "Big Alice the Goon", after its success, a second was built from scratch numbered #4002.
Ad blocker interference detected!
Wikia is a free-to-use site that makes money from advertising. We have a modified experience for viewers using ad blockers

Wikia is not accessible if you've made further modifications. Remove the custom ad blocker rule(s) and the page will load as expected.